Indian Airforce Invites Online Application Form for the Post of Agniveer Non-Combatant. Interested & Eligible Candidates must read Full Notification & Details which is given Below.
Air Force Agniveer Non-Combatant Recruitment : Short Details
| | |
| --- | --- |
| Department | Indian Air Force (IAF) |
| Article | Air Force Agniveer Non-Combatant Recruitment |
| Category | Defence Job |
| Start Date For Apply Online | 16.10.2022 |
| Apply Mode | Offline |
| Salary | Rs. 30,000/- Per Month |
| Post Name | Agniveer Non-Combatant |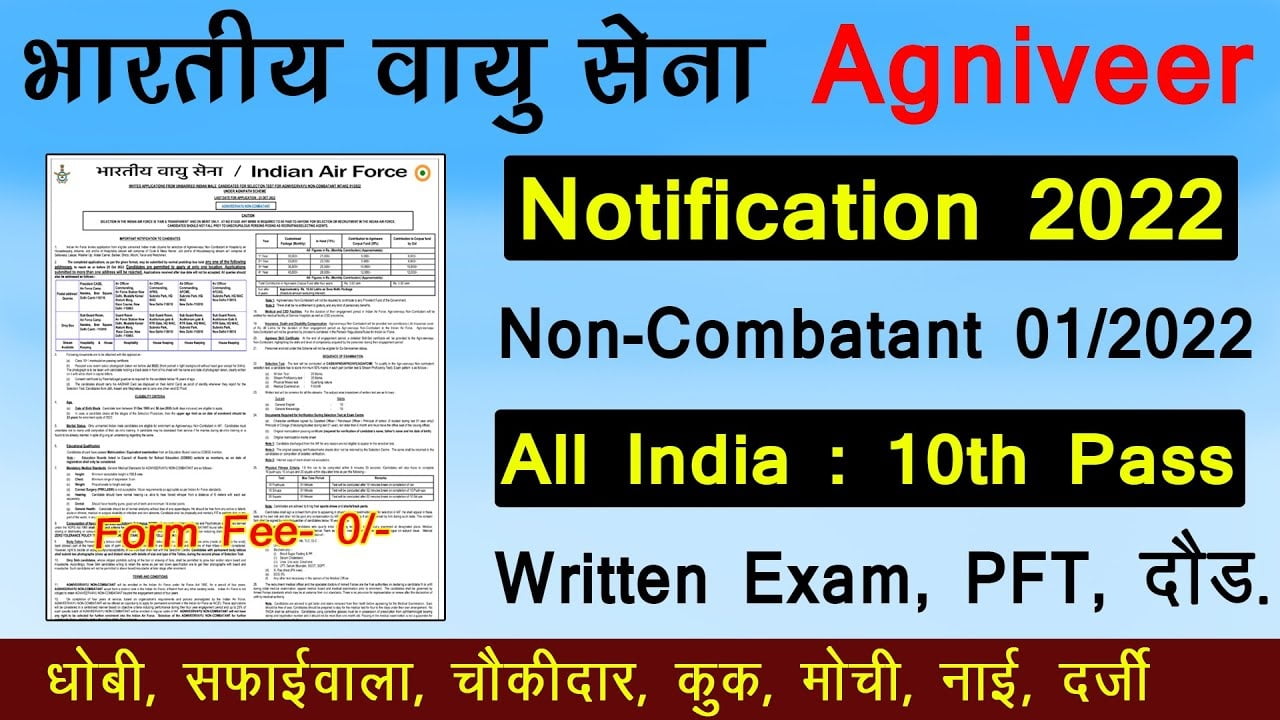 Important Date
Start Date for Online : 16

.10.2022

Last Date for Online : 25.10.2022
Air Force Agniveer Non-Combatant : Age Limit
Candidate born between 31 Dec 1999 and 30 Jun 2005 (both days inclusive) are eligible to apply.
In case, a candidate clears all the stages of the Selection Procedure, then the upper age limit as on date of enrolment should be 23 years for enrolment cycle of 2022.
इन्हे भी पढ़े : Delhi Police MTS Recruitment
Application Fee
Eligibility Details
Candidates should have passed Matriculation / Equivalent examination from an Education Board listed as COBSE member
For More Updates Join Telegram : Click Here
Air Force Agniveer Non-Combatant:

Marital Status
Only unmarried Indian male candidates are eligible for enrolment as Agniveer vayu Non-Combatant in IAF.
Candidates must undertake not to marry until completion of their ab-initio training.
Medical Standards
Height: Minimum acceptable height is 152.5 cms
Chest: Minimum range of expansion: 5 cm
Weight: Proportionate to height and age.
Corneal Surgery (PRK/LASIK) is not acceptable. Vision requirements as applicable as per Indian Air Force standards.
Hearing: Candidate should have normal hearing i.e. able to hear forced whisper from a distance of 6 meters with each ear separately.
Dental: Should have healthy gums, good set of teeth and minimum 14 dental points.
General Health: Candidate should be of normal anatomy without loss of any appendages
Air Force Agniveer Non-Combatant: Selection Process
The test will be conducted at CASB/ AFND/ AFRO/ AFCAO/ AFCME.
To qualify in the Agniveervayu Non-combatant selection test, a candidate has to score minimum 50% marks in each part (written test & Stream Proficiency Test).
Exam pattern is as follows: –
Written Test : 20 Marks , Stream Proficiency test : 30 Marks , Physical fitness test : Qualifying nature Medical Examination : Fit/Unfit
Written exam:
General English – 10
General Knowledge – 10
Physical Fitness Test
1.6 Km run to be completed within 6 minutes 30 seconds.
Candidates will also have to complete 10 push-ups, 10 sit-ups and 20 squats within stipulated.
Who Can Apply For this Post?
Only unmarried Indian male candidates
Required Documents For Air Force Agniveer Non-Combatant
Class 10

th

 

/ matriculation passing certificate.

Passport size recent colour photograph (taken not before

 

Jul 2022

) (front portrait in light background without head gear except for Sikhs). 

The photograph is to be taken with candidate holding a black slate in front of his chest with his name and date of photograph taken, clearly written 

on it with white chalk in capital letters.

Consent certificate by Parents/Legal guardian is required for the candidate below 18 years of age.

The candidates should carry his AADHAR Card (as displayed on their Admit Card) as proof of identity whenever they report for the 

Selection Test. Candidates from J&K, Assam and Meghalaya are to carry any other valid ID Proof.
How to Fill Air force Air Force Agniveer Non-Combatant 2022 Form
The completed applications, as per the given format, may be submitted by normal post / drop box to / at any one of the following addresses, to reach on or before 25 Oct 2022.
Candidates are permitted to apply at only one location.
Applications submitted to more than one address will be rejected.

A 

self-addressed envelope with Rs 10 stamp affixed should be forwarded along with application for dispatch of admit card for written 

examination.

Applications received after due date will not be accepted. All queries should also be addressed as follows:-

Stream
Postal Address
Drop Box
Hospitality & House Keeping
President CASB, Air Force Camp Naraina, Brar Square, Delhi Cantt-110010.
Sub-Guard Room, Air Force Camp Naraina, Brar Square, Delhi Cantt – 110010
Hospitality
Air Officer Commanding, Air Force Station New Delhi, Mustafa Kemal Ataturk Marg, Race Course, New Delhi -110003
Guard Room Air Force Station New Delhi, Mustafa Kemal Ataturk Marg, Race Course, New Delhi – 110003
House Keeping
Sub Guard Room, Auditorium gate & RTR Gate, HQ WAC, Subroto Park, New Delhi – 110010
Sub Guard Room, Auditorium gate & RTR Gate, HQ WAC, Subroto Park, New Delhi – 110010
House Keeping
Sub Guard Room, Auditorium gate & RTR Gate, HQ WAC, Subroto Park, New Delhi – 110010
Sub Guard Room, Auditorium gate & RTR Gate, HQ WAC, Subroto Park, New Delhi – 110010
House Keeping
Sub Guard Room, Auditorium Gate & RTR Gate, HQ WAC, Subroto Park, New Delhi – 110010
Sub Guard Room, Auditorium Gate & RTR Gate, HQ WAC, Subroto Park, New Delhi – 110010
इन्हे भी पढ़े : UP Police Constable Sports Quota
Note :- Before Apply Must Read Full Notification
Important Links For Apply